It is a very sunny day today, temperature is +10 C, a very nice spring day, a good day for riding a bicycle.
Where are you located? How warm does it get in Summer there?
In Finland, in the summer it can get as high as +30 C sometimes.
I like these sunny days because it is nice to ride a bicycle. Today I rode 17 kilometers.
Today has been a great day, I rode my bicycle 26 kilometers and it is very sunny, wanted to show some images where I was pushed in the baby carriage by my mother about 48 years ago, the time passes …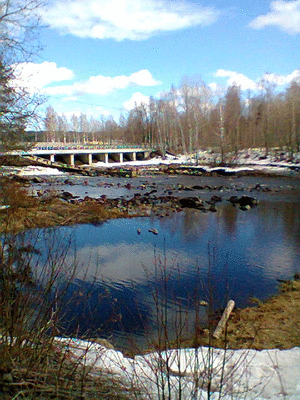 It's cool that you are able to live in such a beautiful spot. I watched the sunrise this morning in my apartment which is surrounded by a few trees and a lot of buildings. It really comes nowhere near to comparing to what you woke up too. Beauty is hard to find in the inner city.
Today I woke up to a beautiful sunrise again, it is a nice way to start the day, great !
You living in a beautiful place mjseu.i wish i could live in a cold snowy place like you country
There's a table outside near the apartment building and I have learned you can watch the sunrise from there so I did so this morning. It wasn't all that interesting but the birds chirped a lot and it certainly was worth doing.